Nunca falta un pelo en la sopa: Fallas del Nintendo Wii
Así es, las fallas del Wii. Yo pensé que dado a lo que Sony nos tiene acostumbrados, el PS3 presentaría fallas al poco tiempo de su lanzamiento, pero, hasta ahora sus fallas son el precio y la pobre disponibilidad de consolas.
El Wii es una consola bastante buena, la mayoría de los que compramos un Wii sabíamos lo que nos esperaba en cuanto a la consola y los juegos, por ese lado nada del otro mundo, pero ya hay muchas personas que están haciendo válida su garantía.
El primer problema y probablemente el más sonado es "El control volador", que consiste en que la finita y frágil piolita que sostiene a la correa más gruesa que se ajusta a la muñeca para que el control no salga -precisamente- volando, se rompe. Hay que ver la realidad, mucha gente se emociona demasiado al jugar (hay videos en YouTube que muestran esto) y sueltan con fuerza el control sin motivo, por ejemplo al jugar "Bolos" en Wii Sports, hay personas que literalmente "lanzan" el control como si fuese una bola de boliche; el manual tanto del Wii, como el de los juegos (incluído Wii Sports) dice en inglés, francés y español "Muévelo cuidadósamente".
Cuando saqué el Wii de su caja y vi el control no me percaté de ese detalle, pero cuando ya estaba instalada la consola y estaba listo para jugar Wii Sports, ahí si me dí cuenta que la piolita no era lo suficientemente gruesa como para aguantar una gran fuerza, así que en ningún momento intenté siquiera soltar el control, por si las moscas.
Visitando foros de videojuegos se podrán encontrar con historias muy dramáticas sobre Wii-motes voladores.
Nintendo, para arreglar este problema -pues ha sido formalmente demandado por este motivo- ha sacado una nueva correa, obviamente más gruesa y más resistente -habrá que ver si en verdad lo es-.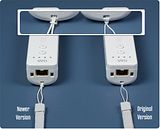 Click para ver más grande.
Las personas que vivan en USA podrán solicitar por medio de un formulario en su página web, que les envíen su correa de repuesto sin costo.
Pueden visitar la página haciendo clic aquí.
En la parte media de la página dice:
Usuarios de América Latina - Por favor hacer clic aquí para obtener información de reemplazo para su región
Esto los lleva a una página donde dice:
Petición de Reemplazo de la Correa de Muñeca para el Control Remoto Wii

Lamentablemente, en estos momentos no tenemos información acerca de cómo vamos a reemplazar las Correas para Muñeca del Control Remoto Wii de nuestros clientes en América Latina. Por favor llene este formulario para que le enviemos un correo electrónico tan pronto tengamos información disponible.
Aquí hay que poner una dirección de e-mail para que ellos te avisen que va a ocurrir con nosotros que vivimos en Latinoamérica.
Pues me llegó el siguiente mail:
From : Nintendo -nintendo@noa.nintendo.com-
Sent : Wednesday, December 27, 2006 12:33 AM
To : xxxxxxxxxxxxxxxxxxx
Subject : Re : Latam Strap Request


Message(#6859-000589-5836\5392837)

ENGLISH
Nintendo is offering to replace the original Wii Remote Wrist Strap with a newer
version. Beginning January 15, 2007, you can get your free replacement from
your local retailer where Nintendo products are sold.

Please note that if you purchased your Wii console after the first week of
December 2006, your Wii Remote likely already has this new version of the Wrist
Strap. Click the link provided below to view a photo of the new and original
Wii Remote Wrist Straps for comparison.

http://www.nintendo.com/consumer/straps.jsp

In the meantime, please follow the Safety Instructions For Playing Wii, which
will help ensure a fun playing experience for all. To review these important
safety instructions, link to the following web page:

http://www.nintendo.com/consumer/wiiplay.jsp



ESPAÑOL
Nintendo está ofreciendo reemplazar la correa de muñeca original del Control
Remoto Wii por una nueva versión. A partir del 15 de Enero del 2007, puedes
visita una tienda local que venda productos Nintendo para poder recibir un
reemplazo gratis.

Sin embargo, si compraste tu consola Wii después de la primera semana de
Diciembre, es posible que tu Control Remoto Wii ya tenga la nueva versión de la
correa de muñeca. Haz clic en el enlace a continuación para ver una foto de la
correa de muñeca nueva y la original para que puedas compararlas.

http://www.nintendo.com/consumer/wriststrap/straps_ES.jsp

Mientras tanto, por favor sigue las Instrucciones de seguridad para jugar con el
Wii, que te ayudarán a asegurar una experiencia de juego divertida para todos.
Para revisar estas instrucciones importantes de seguridad, sigue el enlace a la
siguiente página de Internet:

http://www.nintendo.com/consumer/systems/wii/es_la/wiiplay.jsp
Entonces, los que vivimos en Ecuador que mierda vamos a hacer?
Esperar a que vendan esa correa aquí, pues los locales que trajeron las consolas no son distribuidores oficiales de Nintendo, es decir, trajeron los Wii por cuenta propia, con el fin de obtener una ganancia superior a la que -probablemente- tendría un distribuidor oficial. Así que no va a ser gratis aquí, pero ojalá lo fuera.
Pero las personas que compraron su Wii los primeros días de Diciembre, no tendrán (o no deberían tener) este problema, pues sus controles de Wii ya vienen con la correa nueva.
Segundo problema del Wii.
El aparatito este se calienta considerablemente al dejarlo en modo WiiConnect24, esto es Stand-By pero con el acceso a internet.
Aparentemente entre los daños que esto ha causado se encuentran:
-Discos que no quieren ser leídos por ningún Wii. Lo curioso es que el Wii lee cualquier otro disco ya sea para la misma consola o para Gamecube, pero no lee el que estuvo más tiempo dentro de la consola con acceso a internet.
-La aparición de extraños puntos blancos o negros en la pantalla tanto en los menús como en los juegos. Las personas que reportan este daño también han utilizado el modo WiiConnect24, y curiosamente, este problema se hizo presente al descargar el navegador de internet Opera (versión de prueba) para su Wii. Se dice que puede ser el chip gráfico que se ha dañado por el calor.
¿Será que Nintendo no probó su consola tanto como debía?
¿Será que estas personas estaban jugando bajo un sol incandescente estilo desierto del Sahara o simplemente la habitación donde estaban jugando se estaba incendiando?
De la forma que sea, Nintendo les repondrá las consolas, así que sólo perderán unas semanas y recibirán su Wii nuevo.
Tercer problema del Wii.
Y este sí me pasó a mi.
Las baterías del control se me gastan increíblemente rápido, no me duran ni una semana y eso que no juego tanto como quisiera.
Las baterías Maxell japonesas que vienen con el Wii, no me duraron ni cinco días, al principio pensé que tal vez no eran las mejores o simplemente eran fallosas, pero ya voy cambiando casi cuatro pares de baterías -contando las Maxell-, las otras eran Energizer nuevas.
Por ahora he desactivado el altavoz del control y he desactivado el rumble para ver si ayuda, pero no debería ser así.
Ya he pensado en llevarlo al local donde lo compré, pero es jodido comprobar que el control gasta las baterías, tendría que dejarlo o demostrar que en cinco días aprox. se gastan las pilas.
De todas formas estoy considerando comprar otro control o pilas recargables.
Otro problema que hubo fue que en un número reducido de consolas, al ser encendidas, pedía el disco de arranque para Wii. No, no es el disco de Wii Sports, así que a estas personas ya les cambiaron su Wii.
Creo que no hay más cosas negativas que decir del Wii -por ahora- y si, el Wii suena al encenderlo y al meter/sacar un disco, hasta el momento se considera algo normal, así que por eso no hay porque temer -aún-.
Pasando a Sony.
Hay opiniones divididas sobre el Playstation 3, recordemos que Nintendo ha ganado dinero desde que vendió el primer Wii, mientras que Sony ha dicho publicamente que ellos pierden entre $200 y $300 por cada consola vendida, con el fin de que sea más "accesible" para el público.
En muchos sitios de internet hay reportes de que las ventas del PS3 han caído de entre un 49 hasta un 78%. Una empresa salió a defender a Sony (seguramente fue comprada por Sony), alegando que las ventas han caído porque no hay consolas, están agotadas; En verdad están agotadas, y dejando de lado las afirmaciones de que en tal o cual ciudad se han visto PS3 en las tiendas (que es casi seguro que sólo son displays o están de exhibición), no entiendo que quiere hacer Sony, se suponía que su producción debería estar lista, si sacan a la venta unas 70000 consolas estas se venderán, pero aún estará más atras que Nintendo; Claro que un Wii cuesta $250 sin impuestos y un PS3 $600 sin impuestos, un PS3 equivale casi a dos y medio Wii en cuanto a costo, pero Nintendo no ha vendido 100 o 200 mil consolas, fácilmente ha superado el millón en menos de un mes y la gente aún hace largas filas y se pone a acampar para comprar un Wii.
Veo un poco oscuro el futuro para Sony, pues mientras más se tarden en sacar a la venta sus consolas y si lo hacen en cantidades limitadas tardarán mucho en ganar dinero vendiendo el Playstation 3, que como dije más arriba, Nintendo está ganando dinero desde la primera consola, es decir, no está perdiendo entre $200 y $300 para verder su Wii.
Aparte el Blu-Ray es un formato que promete mucho, pero aún es muy costoso, y hay que recordar que cuando salió, el UMD también prometía mucho. El UMD es el formato/medio de almacenamiento que utiliza el Sony PSP, que hoy en día está más muerto que el pavo para el 31 de Diciembre.
Y en cuanto a la librería de juegos para PS3, muchos también salen para el Xbox 360, y los títulos exclusivos para PS3 no son taaaaaan "sorprendentes" que digamos.
Aunque Sony puede sorprendernos y mañana sacar a la venta 80 millones de consolas que se venderían totalmente en dos horas, Sony es Sony (sarcasmo-sarcasmo).
A pesar de todo, yo estoy muy contento con mi Wii, era exactamente lo que esperaba y espero que no muera...
Jack -Out!
Labels: fallas, nintendo, pensamientos, PS3, quejas, sony, wii