The Legend of Zelda: Twilight Princess (Wii)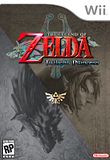 El nuevo juego de Zelda se ve en verdad increíble, obvio que no al nivel de un Playstation 3, pero se ve maravilloso.
Han pasado más de tres años, desde que los fanáticos de Zelda esperábamos un juego con gráficos estilo "Ocarina of Time", pues si bien es cierto, Wind Waker fue un juego muy bueno, pero lamentablemente el aspecto gráfico ahuyentó a muchos videojugadores que por ahora me gusta llamar "hardcore wannabes". Pero eso tal vez sea para otro post.
Desde que ví las primeras imágenes y videos de este juego el año pasado, quedé fascinado, era el Zelda que había estado esperando desde que anunciaron Majora´s Mask, o desde el SpaceWorld 2000.
Tal vez tenía mis dudas sobre Twilight Princess, pero después de ver esta imágen, no tengo más dudas, este juego será una compra obligada para los poseedores del Wii, y también para los que aún no puedan (o quieran) cambiar su Gamecube.
De la historia no se sabe mucho, sólo pequeños fragmentos que sirven para explicar ciertas cosas, como por ejemplo, la transformación en lobo.
De las cosas que valen la pena recalcar es que se dice (Habrá que ver si no es un simple estrategia publicitaria) que será el juego de Zelda más largo de todos, hasta la fecha. Incluso se ha dicho que te demorarás un tiempo estimado de 200 horas para terminarlo.
La versión de Wii se jugará con el "control revolucionario" o Wii-mote junto con el Nunchuck; algo que vale la pena recalcar es que por fin (y aunque sea de una forma básica) podremos controlar los movimientos de espada de Link. Obviamente la versión de Gamecube se jugará con el control normal.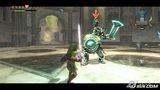 Si quieren ver más fotos y arte de este juego (algo que recomiendo mucho) pueden entrar a la
Galería de Imágenes de TLOZ:TP
en IGN, es una de las mejores con respecto a este juego.
Jack -Out!
Labels: 2006, dudas, legend, nintendo, pensamientos, teorías, wii, Zelda