Sonic en Brawl... Quien vendrá después?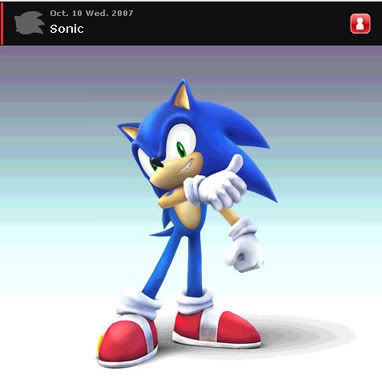 Pues si, hace casi un año hice un post sobre los personajes no pertenecientes a Nintendo que podrían entrar al juego.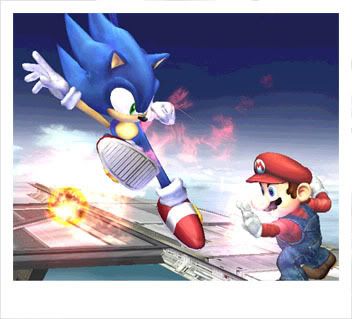 Hasta donde yo recuerdo, en el E3 del año pasado en una mesa redonda que Shigeru Miyamoto y Masahiro Sakurai tuvieron con algunos miembros de la prensa, nos enteramos que podrían haber tres o cuatro personajes correspondientes a third parties.
Obviamente los fans empezaron a sacar conjeturas, intentaban adivinar, creaban teorías sobre cual sería el próximo personaje que sería confirmado, siendo Sonic uno de los más esperados.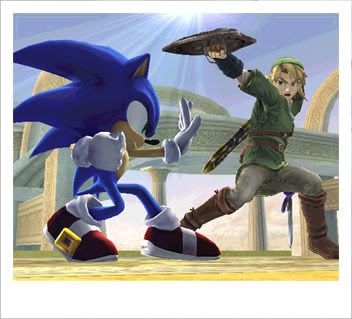 Y es el 10 de Octubre de este año que al fin se confirmó la aparición del erizo azul en Smash Bros. Brawl. (Hey! Nunca dije que este fuera un blog con las últimas noticias).


Así que aquí voy con otra teoría.

Como ya dije hay dos personajes confirmados, Solid Snake y Sonic The Hedgehog, lo que dejaría al menos un personaje no perteneciente a Nintendo por confirmar.

En el post de hace un año hice una pequeña lista con personajes que podrían aparecer, algunos ya no son factibles y otros simplemente los puse en son de broma.

Y con todo esto me refiero a personajes seleccionables, no cuentan que aparezcan en el fondo de algún escenario, como un assist trophy, etc.

Veamos:

Ningún otro personaje de Konami aparecerá pues es sólo uno por third party, es decir, nada de Alucard o algún otro de Castlevania, Metal Gear, Rumble Roses, Contra, Silent Hill (si claro) o cualquier otra serie o franquicia de Konami.

Lo mismo con Sega, en el caso de que aparezcan no serán personajes seleccionables.

Descartados los personajes de comics o novelas gráficas occidentales.

De Capcom en el que más se piensa (desea) es Megaman, vamos, que es la mascota de la compañía. La idea me encanta, siempre y cuando sea el Megaman original de NES; No digo que usen el sprite de 8 bits, pero que se basen en ese concepto (el Megaman chaparrito y regordete) y no en el "X", o el de Megaman 7 en adelante, tampoco el los Marvel Vs. Capcom ni los Megaman para DS y nunca, pero nunca jamás el de la serie Battle Network.

Aún veo poco probable que aparezca algún personaje de la serie de Resident Evil, no sé porque, pero no lo veo probable.
Devil May Cry u Onimusha, ni hablar. Street Fighter, espero que no. De otras franquicias como Bionic Commando, Strider, Darkstalkers, tampoco parece factible.

Tal vez Arthur de Ghouls and Ghosts o Firebrand de Gargoyle's Quest serían buenas adiciones, pero siendo honestos, no son tan conocidos como deberían.

Square-Enix, pues lo más obvio es que se piense en Final Fantasy, pero no creo que Cloud Strife aparezca ni en su look clásico y peor con el de Advent Children. De ahí tampoco creo que Squall, Zidane, Tidus aparezcan. Tal vez Vaan por Final Fantasy XII: Revenant Wings para DS, pero... No...
De algún Final Fantasy anterior al VII? Terra acaso? Locke? Sabin? O de algún juego que muchos no conozcan?

Crono de Chrono Trigger???
Me encantaría, pero viendo toda la atención que la compañía le ha dado en los últimos años, tampoco lo creo.

Algún personaje de Dragon Quest? A menos que sea un Slime, lo dudo mucho.

SNK Playmore? Digamos que pienso lo mismo de Street Fighter y lo expando hasta Metal Slug.

Midway y Mortal Kombat??? Sin comentarios.

Namco-Bandai, dada la –digamos- buena relación que han tenido con Nintendo en los últimos años (Namco junto con Nintendo y Sega formaron Triforce para producir juegos, entre ellos los Donkey Konga para Gamecube y Mario Kart GP 1 y 2 para Arcade) y dejando de lado el hecho que Soul Calibur III no salió para Gamecube (pienso que fue más que nada por el limitado almacenamiento de los discos de la consola) podría aparecer algún personaje de esta compañía, pero de que serie?

Tales of...? Tekken? Soul Calibur (para devolver el hecho de que Link apareció en Soul Calibur II para Gamecube)? Baten Kaitos?
No sé pero también lo veo poco probable.

Por el lado de Bandai, Goku de Dragon Ball Z/GT???
En Japón no habría problema pero en Occidente Atari y Funimation tienen los derechos, así que podría ser problemático.

Naruto, pues ya goza de bastante popularidad a nivel mundial, pero tampoco lo creo.

Pero, el que si creo, y que es propiedad de Namco (Bandai), es Pac-Man.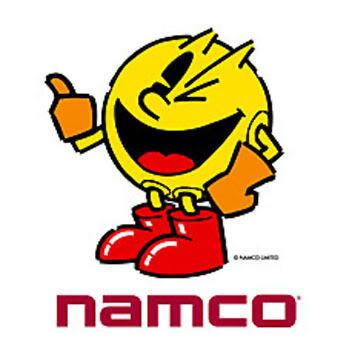 Si, Pac-Man. El semi círculo amarillo que solía moverse en laberintos comiendo píldoras y eludiendo fantasmas.


Como escribí arriba, la relación de Nintendo y Namco ha sido buena, incluso Pac-Man, Mrs. Pac-Man, Blinky (un fantasma) aparecen en los dos Mario Kart GP de arcade; así que Pac-Man no es ajeno a los crossover con personajes de Nintendo.


Y mi argumento más fuerte (?) es que Mario es un icono mundial, multi generacional, Sonic representa el punto intermedio (desde principios de los noventa, aunque no cuadre del todo, pero trabajen conmigo en esto) Solid Snake representa el futuro (por MGS4, aunque su look es de MGS2) y finalmente Pac-Man, que representaría el pasado pues es el primer personaje (a menos que consideren al cuadrado de Pong o a la nave de Space Invaders como personaje...) y mascota en la historia de los videojuegos, además de que es tan conocido como Mario y goza de bastante popularidad sobre todo en los jugadores no tan jóvenes.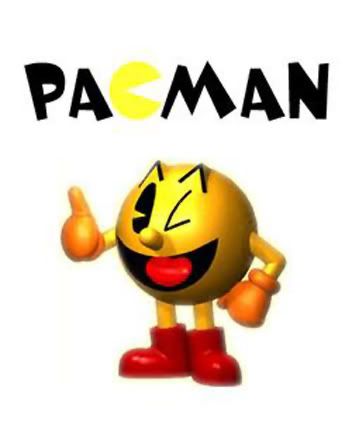 De esta forma Nintendo tendría a tres grandísimos iconos de los videojuegos además de sus propias creaciones que ya gozan de popularidad y aún más al famosísimo Mario.

Vamos, que tendrían las bases llenas.

Será Pac-Man el personaje ajeno a Nintendo que falta por aparecer en Super Smash Bros. Brawl o simplemente estoy escribiendo sandeces?

Habrá que esperar un par de meses o menos para saberlo.




Jack –Out!
Labels: brawl, bros., dudas, mario, nintendo, rumores, smash, sonic, super, teorías, wii